The Answer You're Looking For Is Inside You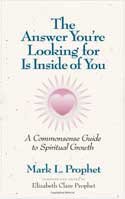 In The Answer You're Looking For Is Inside of You, Mark Prophet weaves anecdotes from everyday life with universal truths, creating a profound, yet thoroughly enjoyable, guide to spiritual growth.
One of the great spiritual teachers of our time, Mark Prophet had a unique approach to spiritual transformation. He believed that our quest for meaning in life, though challenging, should be fun. On that spiritual quest, he found that we can often find the answers we are looking for in the most unlikely places.
This book spontaneously and engagingly leads us to both sources deep within and situations all around us that reveal untold opportunities for personal awakening. You can immediately apply Mark's fresh insights and practical techniques for self-mastery to your own spiritual growth.
Elizabeth Clare Prophet on Mark's Lifelong Goal
Mark knew that deep down inside, people are trying to find God—whether they call him the Christ or the Buddha, the Tao or Brahman. His lifelong goal was to help everyone he met realize more of that spiritual essence.
He also believed that there is a spark of the divine within each of us and that we can contact that God within. Even before it was fashionable, Mark was teaching spiritual seekers how to become mystics. The mystic believes that he can gain direct knowledge of God through subjective experience and intimate communion with the All in all.
Get In Touch With Your Heart!
Want to get in touch with your heart and with the truth that is at the heart of all the world's mystical traditions? Read Mark Prophet's The Answer You're Looking For Is Inside of You: A Commonsense Guide to Spiritual Growth and advance your intimate relationship with God.
Buy The Answer You're Looking For Is Inside You by Mark Prophet at Amazon! Also available in a Kindle edition.