Ashram Notes
Have you ever wondered what you could do to become more spiritually alive?
Have you wondered how you could contact beings of Light who would help you in your spiritual growth?
Have you wondered what you could do on a spiritual level to really help people in Calcutta, Lima or the streets of New York?
In Ashram Notes by Mark Prophet, the ascended master El Morya tells you how to do all three.
El Morya's Vision For a Universal Ashram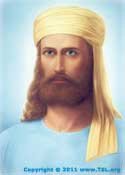 El Morya starts by introducing the Ashram, a worldwide order without membership rolls or dues or formal organization. Its only requirement is devotion. It is composed simply of those who apply the teachings and give the Ashram Rituals contained the this book.
The benefits of the Ashram are vast. Most importantly, it will help you to develop the Inner Light and establish contact with the Eastern Adepts and Ascended Masters.
Mark Prophet on the Ashram
In the Ashram, we work to rebuild our lives according to the pattern directed to us from our own individualized God Presence and Holy Christ Self. We inwardly pledge to work for a divine renaissance on earth. And we daily rebuild the inner temple according to the pattern we individually receive from God in our meditations on the mount of illumination.
Read Mark Prophet's Ashram Notes – and awaken to your potential to be the full reflection of God. Buy Ashram Notes at Amazon!