Introductory Series Pearls of Wisdom® by El Morya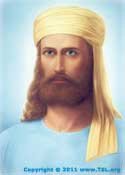 Free introductory series of electronic Pearls of Wisdom® (ePearls) by the ascended master El Morya. In each ePearl, El Morya introduces you to the ascended masters and the seven chohans of the rays, gives meditations for communing with the seven archangels, but most importantly, how to see yourself as God sees you.
"Morya summons chelas of the sacred fire who would become adepts, followers who would become friends of Christ, exponents of the word of living truth, imitators of the master, and finally the heart, head and hand of our cosmic retinue."
Gain spiritual insights to help you meet the challenges of life!
El Moryas's Chela and the Path Introductory ePearls
Analysis of the Greater Self and the lesser self
Introduction to the Lords of the Seven Rays
Meditations on the seven archangels
Working with the violet flame in El Morya's etheric retreat
Learn to experience your life with the faculties of your soul
Technical Notes: You need Adobe's free Reader software installed on your computer in order to open the ePearls PDF files. For more information on opening PDF files, please read What To Do If You Cannot Read A PDF.
Please add tslepearls@tsl.org to your safe sender list or address book so your ePearls do not get stuck in your spam filter. If you need additional information, please use these easy-to-follow instructions for adding an email address to your address book or safe sender list.